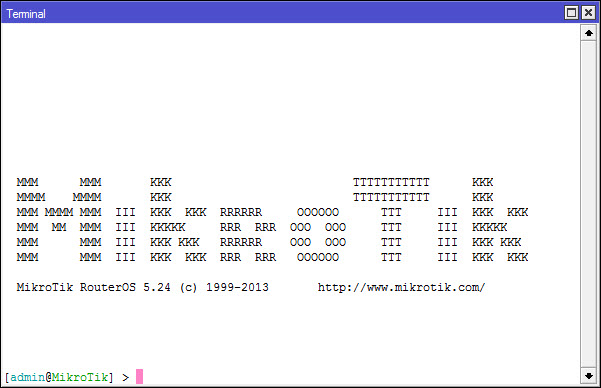 MikroTik RouterOS
is a router operating system software which can be used to make computers (PC) even become a reliable network router, includes a variety of features that are made for IP networks and wireless networks, suitable for use by ISPs and hotspot providers.
MikroTik RouterOS
also installed on the Mikrotik's hardware products such as
Mikrotik RouterBOARD
, Cloud Core Router, Cloud Router Switch and wireless systems.
RouterOS implements various additional features, such as firewall, virtual private network (VPN) service and client, bandwidth shaping and quality of service, wireless access point functions and other commonly used features when interconnecting networks. Installing Mikrotik is not required additional software or additional components.
Mikrotik
is designed to be easy to use and very well used for administrative purposes such as computer network design and build a small-scale computer network systems to complex ones.
Since RouterOS is not free, so you have to buy MikroTik License to using it. RouterOS license comes in a variety of levels. Each level has the ability, respectively, starting from level 3 to level 6. In short, level 3 is used to interface with ethernet router, level 4 for the wireless client or serial interface, the wireless AP to level 5 and level 6 does not have any limitations. For hotspot applications, can use level 4 (200 users), level 5 (500 user) and level 6 (unlimited).
Mikrotik RouterOS Features :
Hardware Support
i386 compatible architecture
SMP – multi-core and multi-CPU compatible
Minimum 32MB of RAM (maximum supported 2GB, except on Cloud Core devices and CHR installations, where there is no maximum)
IDE, SATA, USB and flash storage medium with minimum of 64MB space
Network cards supported by linux v3.3.5 kernel (PCI, PCI-X)
Partial hardware compatibility list (user maintained)
Switch chip configuration support
Installation
M:Netinstall: Full network based installation from PXE or EtherBoot enabled network card
Netinstall: Installation to a secondary drive mounted in Windows
CD based installation
Configuration
MAC based access for initial configuration
WinBox – standalone Windows GUI configuration tool
M:Webfig – advanced web based configuration interface
Powerful command-line configuration interface with integrated scripting capabilities, accessible via local terminal, serial console, telnet and ssh
API – the way to create your own configuration and monitoring applications.
Backup/Restore
Binary configuration backup saving and loading
Configuration export and import in human readable text format
Firewall
Statefull filtering
Source and destination NAT
NAT helpers (h323, pptp, quake3, sip, ftp, irc, tftp)
Internal connection, routing and packet marks
Filtering by IP address and address range, port and port range, IP protocol, DSCP and many more
Address lists
Custom Layer7 matcher
IPv6 support
PCC – per connection classifier, used in load balancing configurations
Routing
Static routing
Virtual Routing and Forwarding (VRF)
Policy based routing
Interface routing
ECMP routing
IPv4 dynamic routing protocols: RIP v1/v2, OSPFv2, BGP v4
IPv6 dynamic routing protocols: RIPng, OSPFv3, BGP
Bidirectional Forwarding Detection ( BFD)
MPLS
Static Label bindings for IPv4
Label Distribution protocol for IPv4
RSVP Traffic Engineering tunnels
VPLS MP-BGP based autodiscovery and signaling
MP-BGP based MPLS IP VPN
complete list of MPLS features
VPN
Ipsec – tunnel and transport mode, certificate or PSK, AH and ESP security protocols. Hardware encryption support on RouterBOARD 1000.
Point to point tunneling ( OpenVPN, PPTP, PPPoE, L2TP, SSTP)
Advanced PPP features (MLPPP, BCP)
Simple tunnels ( IPIP, EoIP) IPv4 andIPv6 support
6to4 tunnel support (IPv6 over IPv4 network)
VLAN – IEEE802.1q Virtual LAN support, Q-in-Q support
MPLS based VPNs
Wireless
IEEE802.11a/b/g wireless client and access point
Full IEEE802.11n support
Nstreme and Nstreme2 proprietary protocols
NV2 protocol
Wireless Distribution System (WDS)
Virtual AP
WEP, WPA, WPA2
Access control list
Wireless client roaming
WMM
HWMP+ Wireless MESH protocol
MME wireless routing protocol
DHCP
Per interface DHCP server
DHCP client and relay
Static and dynamic DHCP leases
RADIUS support
Custom DHCP options
DHCPv6 Prefix Delegation (DHCPv6-PD)
DHCPv6 Client
Hotspot
Plug-n-Play access to the Network
Authentication of local Network Clients
Users Accounting
RADIUS support for Authentication and Accounting
QoS
Hierarchical Token Bucket ( HTB) QoS system with CIR, MIR, burst and priority support
Simple and fast solution for basic QoS implementation – Simple queues
Dynamic client rate equalization ( PCQ)
Proxy
HTTP caching proxy server
Transparent HTTP proxy
SOCKS protocol support
DNS static entries
Support for caching on a separate drive
Parent proxy support
Access control list
Caching list
Tools
Ping, traceroute
Bandwidth test, ping flood
Packet sniffer, torch
Telnet, ssh
E-mail and SMS send tools
Automated script execution tools
CALEA
File Fetch tool
Advanced traffic generator
Other features
Samba support
OpenFlow support
Bridging – spanning tree protocol (STP, RSTP), bridge firewall and MAC natting.
Dynamic DNS update tool
NTP client/server and synchronization with GPS system
VRRP v2 and v3 support
SNMP
M3P – MikroTik Packet packer protocol for wireless links and ethernet
MNDP – MikroTik neighbor discovery protocol, supports CDP (Cisco discovery protocol)
RADIUS authentication and accounting
TFTP server
Synchronous interface support (Farsync cards only) (Removed in v5.x)
Asynchronous – serial PPP dial-in/dial-out, dial on demand
ISDN – dial-in/dial-out, 128K bundle support, Cisco HDLC, x75i, x75ui, x75bui line protocols, dial on demand
Reference : https://wiki.mikrotik.com/wiki/Manual:RouterOS_features